Monsters University
Directed By Dan Scanlon
Rated G
Hello, I'm Tim Ingle and over at my site, Cartoons Got Saved, I explore animated films to find glimpses of the Gospel hidden in their stories. The site is mostly aimed at parents of small children, but the message is universally applicable. I'm excited to be a guest reviewer here at Reel World Theology because I agree that "entertainment is not mindless", but can be a gateway into the mind of God. So let's dive in deep to this great animated film, Monsters University!
Mike: "I did everything right, I wanted it more than anyone… I thought I could show them that I am special."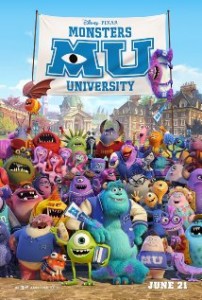 This is the first prequel that Pixar has made. Prequels are always tough because one wants to create a compelling original story without disrupting continuity. Pixar has succeeded. There are a lot of allusions to 1980's frat films like Animal House and Revenge of the Nerds; but at its core, this is about the struggle between hard work and natural talent. The theme I see running through it is, "How far can you get on effort and determination alone?"
"Therefore no one will be declared righteous in God's sight by the works of the law; rather, through the law we become conscious of our sin." -(Romans 3:20)
The film begins with a young Mike Wazowski (Billy Crystal) deciding that, one day, he's going to be a scarer. Scarers are monsters that travel to the human world to scare children and collect their scream energy; which we learned in the first film is the primary means of energy in the monster world. To reach his goal, Mike studies really hard and learns everything there is to know about scaring. Through his hard work, he is accepted into Monsters University.
Dean Hardscrabble: "You are not scary."
The first day of classes, Mike is introduced to James "Sully" Sullivan (John Goodman): a natural scarer from a long line of scarers. Initially, Sully gets all the attention making him and Mike rivals. As the semester goes on he realizes that his natural talents aren't enough. Mike is a star student with A+ grades, but theory and practice are not the same thing. On the day of their Scare Final, they are both kicked out of the Scare Program. Each for different reasons; Sully is unable to tell the Dean how to handle a simple scare situation, and to Mike she simply says, "You are not scary." Their dreams are crushed.
Sully: "but… I'm a Sullivan."
"And do not think you can say to yourselves, 'We have Abraham as our father.' I tell you that out of these stones God can raise up children for Abraham." -Matthew 3:9
In an effort to get back into the Scare Program, the two join a nerdy fraternity and enter it as a team in the Scare Games, a competition to see which fraternity or sorority is the scariest on campus.
Sully: "You can train monsters like these all you want, but you can't change who they are."
Noticing that each member of their team has their own unique strengths, Mike helps them find ways of emphasizing their strengths to diminish their weakness. When everything comes down to Mike in the last event of the Scare Games, which happens to be a Scare Simulator, Sully tampers with the equipment to make sure that Mike gets a perfect score because Sully knows that what the dean had said was true: Mike isn't scary.
When Mike learns that Sully cheated, he decides to prove to himself that he IS scary, by coming to the human world and trying to scare kids. He learns the hard way that he really, truly isn't scary. All the hard work and scare theory studying didn't apply to him because he's simply not a scary monster. Sully, now Mike's closest friend, follows after Mike to save him.
He and Sully return to the Monster world, but they are kicked out school. Sully realized that he's only really scary when Mike is guiding him, and Mike realizes that it's ok to not be scary because he can give Sully the methods to be the scariest he can be. They get jobs in the mail room at Monsters, Inc. and work their way up to being the best scare team ever.
This could have easily lead to a reflection of community within the church, and the different roles of its members, but instead, let's look at it as a glimpse of our fallen nature and our need for grace. Mike worked really hard, harder than any other monster to be a scarer. Looking purely at his works, one would say he's a sure-thing. Looking at him, however, makes one laugh. Mike is funny looking, not scary. And no matter how hard he works at it, he'll always fall short.
Sully on the other-hand has his family name, Sullivan. The Sullivans are always scarers, and Sully thinks that he can fall back on that for guaranteed acceptance. As it turns out, there's a personal requirement that must be brought to the table to succeed, because DNA isn't enough.
We often hear of legalists in the Church, those who believe themselves to be righteous on their own and require it of others. They rely on their good works to prove it. But Scripture tells us that our best works are filthy rags to God (Isaiah 64:6). Like Mike Wazowski, as hard as we try, the Dean of the Righteous program would still say to us, "You are not righteous." And that's the end of it. Mike finally accepts that he is not scary; can we accept that we are not righteous?
The Pharisees and Sadducees once came to Jesus thinking, "We are righteous, not just by our works, but because we are decedents of Abraham." But Jesus lets them know that lineage is not enough to be righteous. One does not inherit righteousness from ones relatives (Matthew 3:7-10).
Then what hope do we have? We must humbly follow Christ (Luke 9:23). Through Him we will do good works (Ephesians 2:10) and inherit righteousness (Romans 8:16-17).
***EDITOR'S NOTE*** A huge thanks to Tim for this review! If you enjoyed it or are a parent looking for more ideas on how to discuss big themes in animated films with your children, head over to Cartoons Got Saved or check out and "like" the Facebook page.