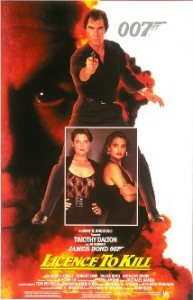 Rating the Bond's is like asking me which one of my kids I love more. Luckily, I don't have any kids, or a problem with telling you they go like this:
1. Timothy Dalton
2. Roger Moore
3. Daniel Craig
4. Pierce Brosnan (sorry bro, shouldn't have made Die Another Day)
5. Sean Connery
I realize you probably have a different opinion, and I just want you to know, I'm okay being wrong.
Why Dalton? He had two movies. Two. How can you be the best Bond with two movies?
Watch Licence to Kill and you'll see why. At the time time it was by far the darkest Bond movie to ever come out. In the opening scenes of the movie, Bond and longtime CIA friend Felix Leiter catch the movie's bad guy, played by one of my favorite bad-guy-actors Robert Davi, and sky dive into Leiter's wedding. Ten minutes later in the movie, Leiter's wife is shot and he get's his leg bitten off by a shark. MI6 tells Bond to drop it, but Dalton listens to no man!
Onward, into a classic Ian Fleming tale featuring two great Bond girls and one of the most exciting and ridiculous movies ever to grace the franchise. Davi's character is a drug runner and kingpin sort of man, mixed up with lots of other, richer guys, who are funding his various cocaine endeavors. They've developed the ability to dissolve the drug into gasoline, making it a cinch to transport, but also making it super easy to blow up (insert telegraphed action sequence here).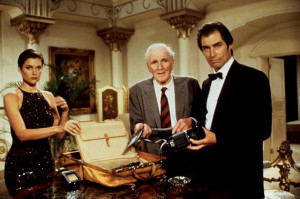 Bond meets up with another American agent in Pam Bouvier, played by Carey Lowell, who goes on to help him take down Franz Sanchez (Davi) and his legion of goons, which even features a token young middle-management white guy. The actions scenes feature a lot of blood, guts and gore, so if you're not used to that sort of thing from a Bond film, steer clear. Someone gets depressurized to death, enough said?
This movie is one of my favorites for it's uncanny ability to mix the campiness of the earlier franchise films with the darkness of the latter ones. It also has some of the best supporting characters. This was a time when they had no problem throwing 20 different people at you, each with just one or two parts to to their character and expecting you to get the larger story. I actually sort of miss that. It was the one time Benicio Del Toro has appeared in a Bond movie. It is also the only time I've seen them find a way to score the theme music in the tones of gunshots bouncing off of different metal objects.
Dalton made his two films some of my favorite Bond's of all time, because of their dark and menacing stories, but he's also such a great foil to follow Roger Moore's flashy style. Between Licence to Kill and The Living Daylights, he made himself into a treasure in the Bond universe and, at least in my mind, will forever be the greatest.