It's the start of something brand new here at Reel World Theology.  We're developing a case of the Mondays over here.  However, it's not the burn-down-your-office kind but the start-a-brand-new-adventure style.  Starting Tuesday, September 16th, Reel World Theology is pleased to welcome new contributor Josh Crabb to the fold.  He will be editing and writing weekly posts Tuesday through Friday for the site.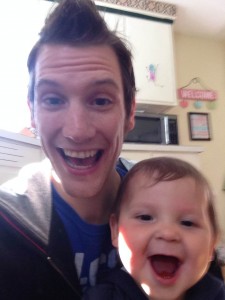 Josh is insanely excited to be a part of Reel World Theology.  He is convicted that the movies and TV shows we watch are not just mindless entertainment but are preaching something to us.  Every time we tune in to the big screen or small screen we can keep our minds and our hearts turned on to analyze and determine what those stories are telling us.  Josh currently resides in Appleton, Wisconsin and is a husband to Tina, father of four, church planter with the EFCA, writer, Star Wars and The Simpsons fan boy, English Football junkie, and obvious cinephile.
Look for Josh's posts starting tomorrow and also more written content from Fizz, Laura, Mark, and others as Reel World Theology continues to grow and remind you that story is powerful and entertainment is not mindless.