No more "Screaming", but now only streaming. It's November and that means you can unlock your doors, put away your axes, and stop sleeping with all the lights on. We return to some not scary recommendations to try and combat the packed new movie season that is November and December. Check out the trio of streaming movies from our fabulous contributors and keep coming back every Friday for more movies to fill up your streaming queues.
[divider top="no"]
via The Film Avenger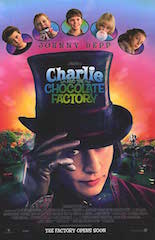 Charlie and the Chocolate Factory (Netflix) – Tim Burton's take on Roald Dahl's 1964 novel isn't as beloved as the 1971 film version starring Gene Wilder, but it is certainly more true to the source material. I really appreciate this movie for putting the Wonka story back into its proper context – a slightly off and dark morality play. The production design is interesting (expect nothing less in a Burton film), Danny Elfman's songs and score are wonderful, and the acting is great all around, especially from the children. Johnny Depp's very strange and slightly creepy Willy Wonka is a delight though the daddy issues subplot could have easily been removed.
[divider top="no"]
via JR Forasteros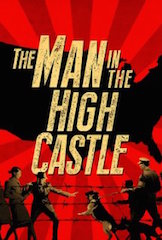 The Man in the High Castle (Amazon) – Based on a Philip K. Dick short-story in which the Axis powers won World War II and the United States are divided between Nazi German and the Japanese Empire, The Man in the High Castle is a gorgeously imagined alternate history. The fantastic pilot has been available for several months now, but the whole first season launches this month. The showrunners allege the pilot is only the tip of the proverbial iceberg, promising alternate-universe hopping that doesn't sound too dissimilar from Sliders (remember that show?). If you're a fan of well-realized historical fiction, alternate history or – possibly – hard sci-fi, this show is for you.
[divider top="no"]
via Josh Crabb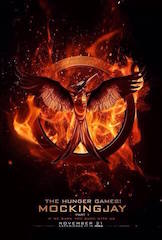 The Hunger Games: Mockingjay – Part 1 (Amazon Prime, Hulu) – It almost goes without saying that Mockingjay would not be the movie it is without Jennifer Lawrence.  She was great in both previous installments of The Hunger Games. In a franchise that needed a strong female lead that could dominate the screen as well as have beauty and grace, Lawrence has fully blossomed into that role and has established herself as one of the best young actresses in Hollywood.  Any movie will be better with her in it, and Mockingjay is driven by her gravitas and skill.  Her careful, nuanced performance of a strong young woman battling the stressors and triggers of PTSD, which would happen to anyone who murdered innocent people to survive and watched people they love die, is what carries the narrative and punctuates the themes of love, loss, betrayal, oppression, and freedom.
That being said, it is her performance alone, and to a lesser extent Elizabeth Banks and Philip Seymour Hoffman's performances, that makes the movie worth seeing. I would definitely suggest getting caught up on this if you haven't seen it and want to see the second half when it comes out this month. It is not as bad as some have made it out to be, and again, J-Law is superb.