Greetings, boils and ghouls! Your weekend movie watching is no longer safe now that our weekly recommendations have undergone their transformation from streaming to screaming. This whole month is dedicated to our contributors giving you a trio of scarifying horror picks from screaming services. Keep all the lights on and beware as you enjoy a horrifying movie watching weekend.
[divider top="no"]
via JR Forasteros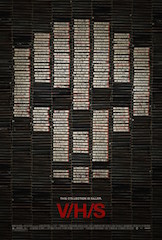 V/H/S and V/H/S 2 (Netflix, Amazon) – Horror anthologies are usually hit-and-miss. Fortunately, the first two films in the V/H/S franchise exceed all expectations. A "wrapper narrative" in each film finds a group of people uncovering a giant pile of VHS tapes and working VHS players (the most unbelievable bit of any of the films). Apparently never having seen The Ring, they start watching the tapes, which in turn are the various short films in the anthology. And they die (spoiler if you haven't seen The Ring) as the tapes are watched. The short films are where the V/H/S films truly shine. They're all found-footage, but with incredibly clever conceits – the nanny cam is my favorite, followed closely by the bicycle. And while a couple of the shorts are just okay, several of them are flat out terrifying. Since it's an anthology, the genres change from one to the next. A slasher flick, then a monster movie, then aliens (maybe?), then a creepy cult, then a haunted house. What's certain is that, once it's all over, you'll sleep with the lights on.
[divider top="no"]
via Scott Kelly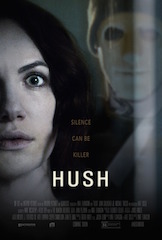 Hush (Netflix) – It seems like every horror fan and filmgoer has been talking about the new release Don't Breathe (and our own Blake I. Collier has been spearheading the discussion here), but while the film takes some original steps, it's not the first to switch things up in the "home invasion" subgenre. Hush, which came out earlier this year, focuses our attention on Maddie: a single woman with a characteristic that sets her apart from most scream queens – she's deaf and mute. Without spoiling too much of the action, I'll just say that when the action amps up and the invader (played by 10 Cloverfield Lane's John Gallagher Jr.) begins his prowl, silence is golden and truly unsettling.
[divider top="no"]
via The Film Avenger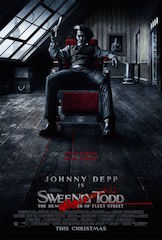 Sweeney Todd: The Demon Barber of Fleet Street (Netflix) – 
Director Tim Burton's very distinctive style works very well if it lends itself to the story he's telling. Sweeney Todd is a prime example of the perfect Burton story. It's dark and has a twisted, satirical sense of humor. Burton creates an entire world that could have emerged from a German expressionistic painting – with "sketch lines" in the architecture, dreary colors, pale character faces, and the like. When the blood starts flowing, the scarlet red truly stands out in the gray palate. Johnny Depp, a favorite collaborator of Burton's, is ver good here as the titular demon barber. He's not that great of a singer, but it lends authenticity to the character's inner turmoil. The music and songs are some of Broadway great Stephen Sondheim's best works – both wonderfully melodic and chaotic. The story itself is fascinating and poignant, touching on how revenge can consume us like a disease and overpower our judgment, hurting other people in the process; that the way to fight depravity is not more depravity.
[divider top="no"]