We've passed the official start of summer and the longest day of the year. Enjoy these long days by being outside and then staying up late watching a movie on your computer or TV, recommended by our wonderful contributors. Enjoy the start of summer and happy movie watching weekend everyone!
[divider top="no"]
via Josh Crabb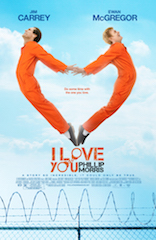 I Love you Phillip Morris (Netflix) – The IMDb description of this movie is far from accurate. It seems to purport Jim Carrey's character, Steven Russell, comes out as gay and then becomes a con man.  However, this is a story based on the real con man who happens to be gay and finds purpose in the love of his life, Phillip Morris (Ewan McGregor), whom he meets while imprisoned for his crimes. While the material can be a bit controversial, the movie is less about Steven's relationship with Phillip and more about his con man lifestyle inhibits him from having a real relationship. His struggle is finding out who he really is versus who he has always been and how his relationship with Phillip tragically exposes both sides. The performances are astounding, the relationship between Phillip and Steven is bittersweet, and at times it is downright hysterical. The twists and turns of the movie keep you guessing and the final 15 minutes are inspired. A pretty good film despite some its flaws and very entertaining.
[divider top="no"]
via The Film Avenger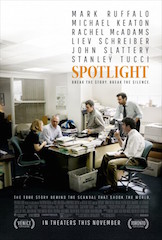 Spotlight (Netflix) – Last year's Best Picture winner is a surprisingly smaller film than the usual Academy fare, but it is a great one. It tells the story of The Boston Globe's exposure of the Catholic priest sexual abuse scandal in the early 2000s. The performances are all great, especially Mark Ruffalo's. And I admire the production team's attention to detail when it comes to the inclusion of early 21st-century tech. However, I do think the film's biggest strength is its story. This is a story than should grab everyone, particularly my fellow Christians. It illustrates the danger of putting too much faith in church leaders, elevating those that serve in the clergy to almost idolatrous status. Furthermore, when trust between clergy and congregation is violated in such a terrible way, many outside the church see it as a reflection on the Lord – which does not help His cause.
[divider top="no"]