The month of March is finally upon us and the 2017 movie calendar is stacking up. With so many highly anticipated movies starting to make their way into theaters this month, you might need a break from the choice of where to spend your money. Well, wonderful reader, our contributors can take away all your anxiety by choosing what you watch this weekend, and you can do so from the comfort of your own home. Check out the trio of recommendations and make it a happy movie watching weekend.
[divider top="no"]
via Josh Crabb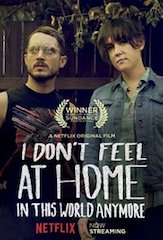 I Don't Feel at Home in This World Anymore (Netflix) – Debuting on Netflix last weekend, this tight, little thriller from Macon Blair is straight out of the school of Jeremy Saulnier, whom Blair has worked with on previous Saulnier films Green Room and Blue Ruin. This movie has much more in common with Blue Ruin. A similar story in an ineffectual person being pushed around and menaced, only to finally say "enough is enough" and take aggressive, and sometimes violent, action. While not quite as violent as Blue Ruin, Melanie Lynskey plays the part of Ruth with as much tentative strength as Blair did as Dwight in the aforementioned Saulnier movie. Also, an added element of veteran actor Elijah Wood as Ruth's neighbor and partner in her revenge scheme against the people who robbed her house. Wood is so good at playing goofy, oddball characters, he adds an unpredictable and funny element to the movie that makes it all the more interesting to watch.
The most surprising element of this movie is the spirituality of the movie and its philosophizing about death and how people treat one another. Wood's character is a very religious man and contrasts Ruth's nihilistic approach to mortality that strings along a fascinating and thoughtful thread as the movie progresses. The movie feels like a 21st-century Book of Job if Job had had enough and was filtered through the neo-Noir genre (think Rudolph Mate mixed with Johnson's Brick and with 2000's era Coen brothers) and Trump's America. I won't say more than that, but you definitely need to check this one out this weekend.
[divider top="no"]
via The Film Avenger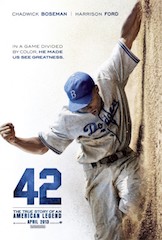 42 (HBO Now) Jackie Robinson was one of the finest baseball players who ever lived and the first to break Major League Baseball's absurd color barrier. This film is a wonderful look at Robinson's rise in baseball, with great performances by Chadwick Boseman and Harrison Ford. Robinson was the embodiment of class and grace in the face of hatred and violence. And he conquered discrimination not with retaliation, but with genuine skill and garnered respect from even the most vehement racists in the game. The best way to shut the racists up is by being the best, and Robinson was.
[divider top="no"]
via Gene Gosewehr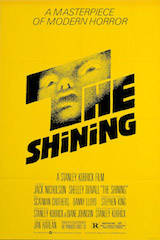 The Shining (Netflix) – Stanley Kubrick films used to be a significant blind-spot in my viewing history. A couple years ago I ventured to reconcile that but a handful of his best-known films still remain. The Shining was one of them until it recently arrived on Netflix. It is a time-commitment at 143 minutes, but you'll get one of the most haunting performances from Jack Nicholson you've ever seen, and you'll immediately become familiar with a couple significant pop-culture references that may have been lost on you in the past. Oh, and you may really like it.
[divider top="no"]