As we move into the last weekend of February, the offerings are getting quite exciting! It is especially exciting to see Netflix jumping in with their "wide" release over their streaming service of the sequel to Ang Lee's 2000 wuxia epic, Crouching Tiger, Hidden Dragon. Check out everything that is coming out this weekend and make sure to let us know what you are excited to see!
[divider top="no"]
Opening In Wide Release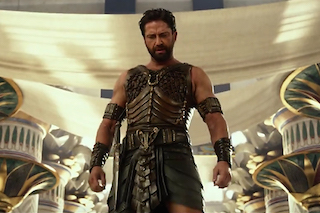 By far the most "LOL-d" at movie trailer of this barely-lived-in-year, this movie looks to be everything crazy and wrong with CGI-heavy movies. Boasting one great actor, Nikolaj Coster-Waldau, and one actor who seems to revel in terrible scripts and reprising his role in 300, Gerard Butler. Also, for some reason everyone in Egypt is white? While in a movie like Exodus: Gods and Kings it is inexcusable, when it happens in a seriously crazy-looking CGI fest like this movie, buying a ticket to a different movie will suffice. The trailer content leaves pretty much everyone skeptical this movie will be very, very bad.
[divider top="no"]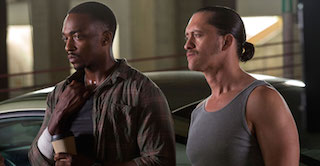 A lot of people are getting pretty excited about this movie. Heist films have a long history and have the potential to be incredibly thrilling and sometimes, in the case of the Ocean's Eleven movies, lots of fun. Triple 9 looks to be in the dark and gritty mold of Heat or even The Dark Knight, which has heist elements in it. The most promising part of this heist movie is the incredible cast which includes Casey Affleck, Anthony Mackie, Kate Winslet, Norman Reedus, Aaron Paul, Gal Gadot, Chiwetel Ejiofor, and Woody Harrelson. Pretty great, right? It remains to be seen if a super-cast like this can deliver, but it is definitely intriguing.
[divider top="no"]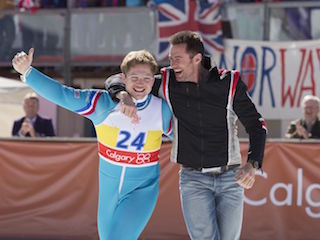 In a movie that looks like it could be seriously dumb or seriously awesome, Taron Egerton is Michael Edwards, the tenacious and extremely odd British ski jumper known as "Eddie the Eagle". He persisted through opposition and achieved the life-long dream to be an Olympian when he represented Britain at the Winter Olympics in Calgary in 1988. The movie also stars Hugh Jackman as his coach and the one who fought alongside him to get Eddie in the Olympics. Boasting an 80's heavy soundtrack which includes Peter Gabriel's "Sledgehammer", a favorite of mine because my dad loved Peter Gabriel and Genesis, the movie looks to be feel-good fun and a satisfying underdog story. Definitely worth checking out this weekend.
[divider top="no"]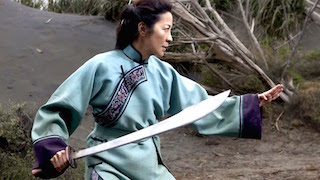 Having spent an immense amount of time preparing to review this second big, wide release feature film from Netflix, I have Chinese and wuxia movies on the brain. While this will fall much more into the category of a Hollywood-style rendition of the wuxia movie, everyone is hoping it can be as good and successful as Ang Lee's original movie from 2000. Michelle Yeoh returns in the role of Yu Shu Lien and the holder of the Green Sword of Destiny, which Chow Yung-Fat's character gave to her in the original film. The film makes a mega move in grabbing Donnie Yen, of Ip Man and countless Chinese martial arts movie fame, to play a new role as Silent Wolf. We hardly know anything about this movie but there has been a lot of positive buzz and you can look forward to a review coming Monday!