Hard to believe that the summer movie season is coming to a close. The big blockbusters have come and gone and the back to school sales are in full swing as box offices' steel themselves for the inevitable September drop off. All that being said, there are still some intriguing releases, including a well liked Sundance entry from mumblecore director Joe Swanberg.
[divider top="no"]
Opening in Wide Release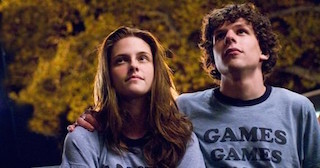 A somewhat intriguing movie because of the presence of Stewart and Eisenberg, it also holds a lot of interest for being written by Max Landis; the screenwriter responsible for Josh Trank's Chronicle and the forthcoming Victor Frankenstein.
Set in the fictional town of Liman, West Virginia—possibly a hat tip to Bourne Identity director Doug Liman—Jesse Eisenberg plays Mike Howell, a convenience store clerk bent on coasting by and being/getting stoned with his girlfriend, Phoebe (Kristen Stewart). However, when he tries to leave town with Phoebe, the CIA is alerted to his presence and sends assassins to eliminate him. Unbeknownst to Mike, before he was a simple, small town stoner, he was the world's most deadly assassin. After being reactivated and vanquishing his would-be killers, he and Phoebe must discover his past while avoiding the steady stream of people sent to kill him.
It sounds pretty hilarious and while it is getting a truly mixed review, Stewart and Eisenberg should be enough to give this movie a try this weekend. Check it out and let us know what you thought!
[divider top="no"]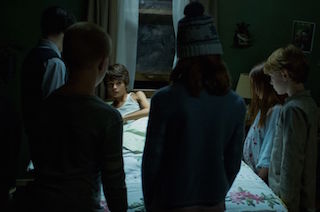 The first Sinister, a middling horror movie to some and fantastic to others, at least had the star power of Ethan Hawke to go on. However, this movie has nothing along those lines and early indications is that it is horrible. Boasting a 7% on Rotten Tomatoes, the follow up lacks the same punch and originality of the first. For those of you who love the horror genre, this could be right up your alley. For those of us only remotely interested, you might want to rent It Follows or go see the surprise thriller hit, The Gift.
[divider top="no"]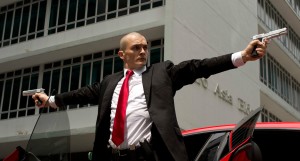 Ho boy has this been getting some pretty bad early reviews. While it is not all that surprising given the general flop-ish nature of video game movies, you could have at least hoped for something better than 5% on Rotten Tomatoes!
The trailer for this movie makes me seethe. A ridiculous blood bath and action circus makes it look less like the parts of a good movie and more like the more detestable elements of modern video games. I shouldn't expect anything different from a video game movie from a major Hollywood studio; but c'mon!
I can always count on Matt Singer of Screen Crush to steer clear of the bad ones, and he has some choice words of warning for those wanting to see Hitman: Agent 47: "Rooting for the title character of Hitman: Agent 47 is like watching a baseball movie and rooting for the pitching machine."
[divider top="no"]
Opening in Limited Release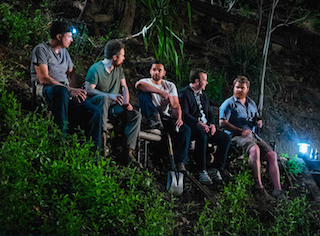 As far as Sundance movie's go, this one has a grab bag of well-known celebrities, Indie film darlings, and comedians. Joe Swanberg's latest effort has been widely touted as being one of the better movies of Sundance 2015, and based on the cast I can't argue. Jake Johnson, Rosemarie DeWitt, Orlando Bloom, Mike Birbiglia, Bire Larson, Anna Kendrick, Sam Elliot, Sam Rockwell, Jenny Slate, and even more. It's quite an impressive troupe and the trailer gives off an air of the Swanberg's mumblecore comedic roots with touches of more Hollywood flair. It's all incredibly exciting and I'm really looking forward to getting a chance to see the movie. I couldn't confirm anything beyond an August 21st limited release, but I have seen some reports that it may be on VOD on August 25th. If you are want to see this movie, check it out in your area or possibly poke around Amazon, iTunes, or other VOD carriers on August 25th.
*update* Digging for Fire's Facebook page shared that it will be available on VOD and iTunes on August 25th! Super sweet!