In 2012, it was Disney/Pixar's Brave that won an Oscar and surprised everyone with a curly, red-haired Scottish princess. In 2013, it was Disney's Frozen that dominated the big screen and little girl's vocal chords. In 2014, The LEGO Movie surprised us all and gave us our first real taste of Chris Pratt in a leading role in a full-length film. This year, 2015, has been a bit of a disappointment with animated movies. The live-action mixed SpongeBob Squarepants and Paddington have been small surprises, but nothing like The LEGO Movie was. Home was a disappointment and Strange Magic a giant flop (sorry GL, but it it was here and gone in a couple weeks).
However, we are all holding out hope that this Friday will change things with the release of Disney/Pixar's newest animated movie, Inside Out. It releases widely this Friday and is sure to dominate the box office after an impressive and record-breaking showing by Jurassic World this past weekend.
Also, there is another highly touted wide release in Dope, a quirky coming-of-age story set in LA. It looks really great and I can't wait to see it, also. Not only that, but there are some award winning limited releases coming out and a new romantic dra-medy starring Mark Ruffalo and Zoe Saldana, two wonderful actors. It's a great slate of movies, so check it out and let us know what you are excited to see this weekend.
[divider top="no"]
Opening In Wide Release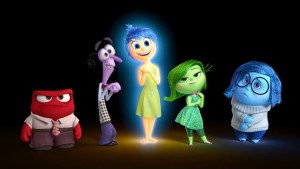 The initial trailers for Inside Out did not seem like anything close to a Pixar movie. My first reaction was that it felt more like a concept Dreamworks would have come up with. Even the group of voice actors, on initial overview, seemed out of step with what they had done in the past. I had a growing sense of worry that Pixar had lost it's A-game a little bit.
My fears were quickly allayed with the follow up trailers that unfurled the story out a little more and I got over Joy (Amy Poehler) looking like Tinkerbell. The initial reviews and some excitement from some of our readers and listeners after having seen the movie have got me very excited to take my kids to see the latest movie. I'm sure, if you have kids, you will make your way out this weekend, but as Pixar has proven time and time again, these movies are cerebral and fun enough for adults as they are exciting and silly for kids.
[divider top="no"]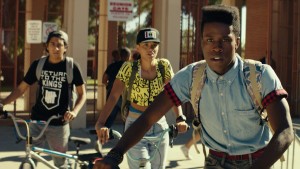 A post hip-hop 90's movie that has been described as a mix of Doug Liman's Go, Boyz n the Hood, and Superbad. I'm not sure exactly why I have been looking forward to this movie, but this coming-of-age story piqued my interest with a smart, witty lead (Shameik Moore) and a co-starring role for A$AP Rocky. It got a lot of love at Sundance and has been getting a lot of play in the Indie review sites.  It was enough of a critical and commercial buzz to get a wide release, so check it out this weekend and let us know what you thought.
[divider top="no"]
Opening In Limited Release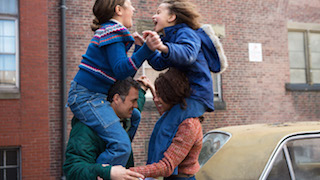 Mark Ruffalo seems to major in heartbreak and humor, even in his role as The Hulk in The Avengers movies. Last year's Begin Again was a surprisingly wonderful movie that majored on a feel-good spirit with ultimately a bit of a bittersweet ending. Ruffalo functions best lately in a sort of melancholy yet warm co-lead in romantic comedies. This time he is teamed up with the charming yet tough Zoe Saldana. The story is about a father, who struggles with manic-depression disorder, trying to win back his wife by taking care of their two kids. Hopefully, the movie can toe-the-line on dealing with a mental disorder and avoid being exploitative or disingenuous.
[divider top="no"]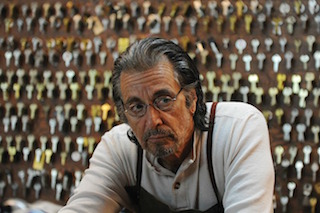 Starring the legendary Al Pacino, the movie has that going for it, as have most of Pacino's movies since his Oscar-winning role in Scent of a Woman. That might seem a bit unfair, but Pacino's movies have taken quite a dip in quality the past 5-ish years. He has functioned a lot better in a co-starring or supporting role. This movie follows a small-town locksmith (Al Pacino) trying to restart his life after a major heartbreak. It has been getting mixed reviews from varying early critics and is worth a look, especially if you enjoy Pacino.
[divider top="no"]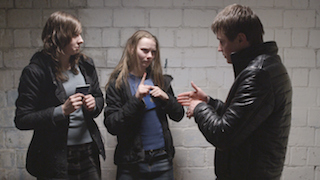 This is by far the most intriguing "small" film that is debuting in the US this weekend. A Ukrainian film about a deaf young man trying to fit into a school boarding school, it is directed by Miroslav Slabosphitsky. The intriguing part of this film, and what makes it so unique, is that all the dialogue is in sign language. There are no subtitles, no other language. It has been sweeping up awards on the film festival circuit and makes for a one-of-a-kind movie experience. Check it out if it is in your city and let us know what you thought about this one.