Welcome Whovians, to the new incarnation of Who·ology here on Reel World Theology. Unlike the return of Missy to this season of Doctor Who, we have reasons for the regeneration of this weekly feature from podcast to written review, but suffice to say, we still love Who and still plan to bring you our take on it each week to hopefully stir some discussion. So let's get to it!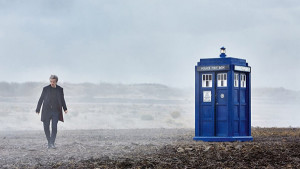 Boy In Need: "I don't understand."
The Doctor: "Neither do I. I try never to understand. It's called an open mind."
The Doctor is back for season 9 of the modern series, and it's good to see Capaldi's 12 back in action. The first episode, entitled "The Magician's Apprentice" for literally no reason at all, immediately ushers us in to what seems to be the main conflict of the season. I say that because it's about the Doctor's past with Davros, a long time arch nemesis, which could be big enough to encompass an entire season. But who knows? With almost no basis in this episode to work out where this set up will lead us, we can only guess at what's next.
That brings me to an aside. I would now like to nominate a new word entry into the English language- "moffatt." To "moffatt" something is to chock it so full of good individual things that you turn them collectively into a meaningless mess. It's like being at a salad bar- you may like tomatoes, ham, eggs, cucumbers, pepperoni, cheese, mushrooms, and lots of other things on the bar individually. But when you throw heaping helpings of all of them onto a small bowl of lettuce, they lose their individual flavor and drown out everything altogether. Not to mention you then add your favorite dressing to it and what are you really eating anyway?
Steven Moffatt, head writer and showrunner of Doctor Who since Matt Smith's inaugural season, is the owner of that salad bar. He has a smorgasbord of great ideas. But he has absolutely no one to hold him back, so he frequently packs everything he can into hour-long episodes without giving a single second of worry as to the consequences. End of aside (and leafy metaphor.)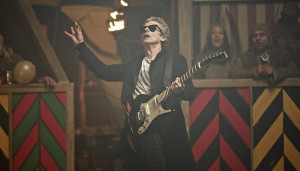 Thus we have "The Magician's Apprentice." There are a lot of randomly pointless things going on in this episode that amount to nothing. Missy doesn't have any reason to be there except for the fact that Michelle Gomez is brilliant in the role (and Moffatt wanted to find a way to bring her back). Because we can't have just enough of something, we have to over indulge on it. I agree that Gomez is pretty incredible. Everything she does is deliciously perfect down to the details. But Missy being back completely nullifies her existence last season. Oh, she had a story arch? Eh, whatever, let's just moffatt it.
But the Doctor is here, and he's why we came, right? Yes, but there's one problem- he's not really doing anything. Sure he's coming in on a tank (a giant set piece created for a single, passing joke) and playing guitar, which is admittedly pretty cool and totally something I believe the Doctor would do. But why?
Well, he's running from a long past mistake recently made (timey wimey!) I like the gravity of this. We all make mistakes; it's in our nature. And we all run from them at times in various ways. The Doctor's version of this is to hide away in the dark ages and act like a rebellious teenager. It works, as the Doctor is constantly balancing his child-like nature with being a 1200 year old savior of the universe.
But this episode ignores the latter part of that balance. Nothing happens in this episode. The Doctor just reacts, which is losing an essential part of who he is. The reason why the Doctor is so interesting to us is that he deals with the same problems we all face (though his sometimes look like monstrous aliens) and yet he still does what is hard for all of us to do- he sacrifices himself to help others. This episode has been moffatted so hard with pointless frozen skies, over indulgent villain-turned-sidekicks, and rock star gaudiness that it gives no time for any examination of that side of the Doctor.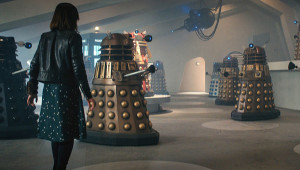 Now I know this is part 1 of 2, but I personally don't accept that as an excuse to have a pointless, fluffy episode. Especially when the template for these things is Doctor Who itself, having added so much depth to part-1 episodes in previous seasons that we have a high bar of expectation. From the looks of the trailer of part-2, we see that the Doctor has been given another one of those difficult, eternal choices by Davros, but since we know that no one really dies in the Moffatt-run years, we know that Clara and Missy will be saved. This means the Doctor is still just being written as selfish and childish. One can only hope the other side of him appears to give us some meaning to all this moffatted mess.
That brings me finally to the quote from this episode at the head of this review. I think this is Steven Moffatt's motto- "I try never to understand." Because when you are given the keys to an endless universe of time and space, it can sure seem like there are too many good ideas that must be explored and thrown into the story. Yet sci-fi is at its best when it focuses on the inward, rather than the outward. Doctor Who is at its best when it simply tries to understand who we are. Currently this is being ignored for the sake of spectacle. The approach is not to understand, just gawk. Because of this, the show is in danger of going the way of Gallifrey (that is to say, extinct).
Next time on Who·ology: I promise this won't be a weekly Moffatt bashing review. I just couldn't help it for this episode. Next week we will focus more on what this 2-part episode reveals to us about the Doctor and what is on the horizon for him.
[youtube url="https://youtu.be/wvOxIAi-2Og"]