On this episode of the Reel World Theology Podcast: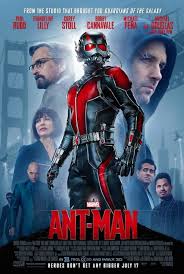 Is it possible for Marvel to continue putting out solid films after a dozen solid offerings? There was a lot of doubt surrounding the little known property of Ant-Man but unless you just aren't into superhero films, you should enjoy this one. Likely the most humor to date in a Marvel film and some very creative uses of special effects gives us a unique story that doesn't overreach. With Paul Rudd and Michael Douglas bringing the star power, we get a film that allows us to laugh and have gravitas. We also get to have conversations about why we love movies about second chances and what it means to find redemption. This is a good one!
Download Episode 068 Here:
Reel World Theology #068 – Ant-Man and Avoiding Franchise Fatigue
Reel World Theology on Stitcher
This weeks panel included Griffin Kale, Josh Crabb, and Matt Anderson.
Griffin Kale (@griffin_kale)
RWT Contributor
www.griffinkale.com
Joshua Crabb (@HeyItsThatJosh)
RWT Contributor
13Past1 Blog
Matt Anderson (@manderson555)
The Sci-Fi Christian (@scifichristian)
Comic Book Time Machine
Podcast Notes and Links:
[youtube url="https://youtu.be/pWdKf3MneyI"]
Ant-Man on Wikipedia
Ant-Man on IMDB
Ant-Man on Rotten Tomatoes
Ant-Man Review at Reel World Theology
Ant-Man Review at Reel Spirituality
Ant-Man Review at Reel Gospel
Ant-Man Review at 1MoreFilm Blog
Ant-Man Review at Christianity Today
Ant-Man Review at Hollywood Jesus