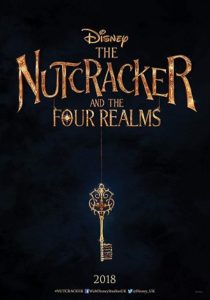 In a time when Disney is more known for taking the wheel on gigantic franchises, or remaking its own animated classics into live-action movies (whether we asked for them or not), I was incredibly refreshed when I saw the trailer for The Nutcracker and the Four Realms. This fairy tale, filled with some of the most famous and enchanting music of all time, is a welcome addition to Disney's work.
The reviews I have come across have been mostly, and I believe needlessly, negative. When you attempt something new, it is always a risk. My fear now is that Disney will continue to only look at the box office numbers and completely ignore the wonderful things they DID accomplish in this movie. If this happens, we'll get less and less original content and more rehashing of their classics. I for one, do not want to see this happen.
This film does have its share of issues, but also some very unique strengths. When people ask, "Do you want the bad news first, or the good news?" I tend to lean toward bad first in order to leave my mind on a more positive note. With that said, I will first break down the weaknesses of the film and then leave us with its strengths.
The film's biggest downfall is its lack of story and character development. I feel like I say this in every review (probably because I do), but this has become an epidemic issue in blockbuster film making.  A lot of the time it's Spectacle > Substance, when it should always be the other way around. It is difficult to really feel connected to the magical world of the Four Realms, because it is woefully underdeveloped. We get that there's a land of flowers, snowflakes, sweets, and amusements, but we never really get to experience those worlds. Even in the original ballet, which is done in dancing and pantomime, we got more of a sense of the magical presence of each of these worlds. However, a film requires much more to keep the audience immersed, and that simply does not happen here.
With the characters, the same issue arises. I actually felt the characters in the "real world" were better developed and more interesting than those in the Four Realms, except for Captain Philip and Mouserinks who are just adorable.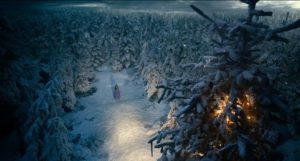 I believe there is more story between Clara and her father than there is in the rest of the movie. Clara (played by the stupidly stunning Mackenzie Foy) is an interesting choice for a heroine, because she feels like a real girl. She is introverted and awkward at times, struggling to be heard and living in her own head—for better or worse. Her father (the lovely Matthew Macfayden) is very different than her on the surface, but also with a similar struggle to communicate. These two characters grapple with grief in their own way and each struggle to understand the needs of the other. Had that aspect been truly tapped into, WOW, what a movie we might have had! Their dance scene alone is one of the most beautiful and tender cinematic moments I've seen all year.
We are given a fantastic cast, particularly having Keira Knightly as THE Sugar Plum Fairy and Helen Mirren as Mother Ginger. These should be scrumptiously fun and eccentric roles, but we hardly get a chance to know them enough to care. This criticism especially applies to Mother Ginger and the twist I smelled from a mile away. Everything was laid out on the table and gobbled up. Not much is really savored and pondered on, and that really hurt the movie overall.
Now for the strengths…
The most obvious is the absolutely delicious costumes. If you appreciate nothing else about this movie, appreciate that. The costumes are exquisite and meticulously designed. The massive production for the costumes had designer Jenny Beavan (Mad Max: Fury Road, Sherlock Holmes) and her team of about a hundred people working for 12 weeks to make about 1500 costumes. The variety of colors and textures just pop from the screen. You can almost reach out and feel them.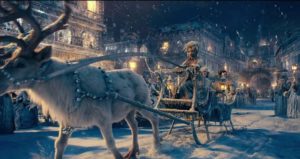 In the tradition of current Disney projects, Four Realms relies heavily on CGI, but what I greatly appreciate here is that many of the scenes and sets feel more like a stage play than a movie. That is precisely how a Nutcracker story should feel. The film's magic truly lies in the ballet scenes. They are my absolute favorite parts because of the stage presence (Misty Copeland FTW!), but also because they brought back the silhouetted orchestra in a very classic Fantasia vibe. Indeed, much of the film channels classic Disney productions.
Within the context of the ballet/stage feel, we get an ethereal score from the man, James Newton Howard. By smoothly integrating Tchaikovsky's brilliant original pieces into an updated and captivating score, Howard gifts The Nutcracker for a whole new generation to enjoy. Additionally, the original song "Fall on Me" is simple and beautiful. Andrea Bocelli and his son Matteo in a rich duet really drives home the previous points I mentioned about Clara and her family. Further proof that the movie needed more of that.
The Nutcracker and the Four Realms is not the strongest offering of 2018, but it has just enough charm and whimsy to bring a little magic to this holiday season.