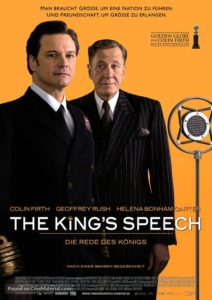 There's nothing like a trusted mentor and teacher to change your life for the better. That's the idea behind one of my favorite movies, The King's Speech (2010), based on a true story from the life of King George VI. In this quietly touching drama, the patient guidance of speech therapist Lionel Logue (Geoffrey Rush) helps the future king of England (Colin Firth) begin to deal with his crippling stutter, and with the conflicted emotions behind it.
Albert, Duke of York—"Bertie" to his family—is the very image of the stiff-upper-lipped British royal figure, determined to do his duty at all costs. Unfortunately for him, his duty involves public speaking, which he can't do without making a mess of it. All kinds of speech therapists with all kinds of convoluted methods have failed him.
Enter Logue, discovered by Elizabeth, Bertie's ever-resourceful wife (Helena Bonham Carter). Logue has developed some helpful vocal techniques, but his strategy is primarily based on getting his patient to relax and relate to him as a friend. Bertie resists at first, admitting that the world of the "common man" is foreign to him. And, sadly, the concept of friendship doesn't seem that much more familiar. But with the growth of camaraderie, as Logue had hoped, comes the growth of confidence—a confidence that Bertie will sorely need when it becomes clear that his brother, Edward VIII (Guy Pearce), is going to abdicate, leaving Bertie the heir to the throne.
I remember plenty of consternation when The King's Speech beat out The Social Network for the Academy Award for Best Picture. But frankly, I was delighted. The Social Network was a slickly constructed, rapier-witted piece of work, but I couldn't help but root for what I still see as the deeper, more heartfelt film. Director Tom Hooper and screenwriter David Seidler never let us forget the high stakes—Bertie is being forced to assume the kingship as Europe draws ever closer to world war. But the friendship that forms the film's core is shown as essential to those high stakes—Bertie needs that support to be the ruler his country needs at this moment—and so it keeps us riveted.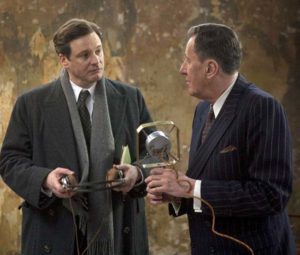 Rush and Firth play off each other beautifully, with Logue's laidback attitude—during a coronation rehearsal, he actually dares to sit in Saint Edward's Chair!—irritating the more intense and formal Bertie in a series of "odd couple" moments that help lighten the mood even as the story's tension builds. The warmth of the friendship, as well as Bertie's close relationships with his wife and children, bring home the truth that a loving community can help us find undreamed-of courage. I still get a little emotional when, at the moment Bertie must make his climactic radio speech, Lionel says simply, "Say it to me, as a friend." Truly, there are few things as wonderful and helpful as a teacher who is also a friend.
Unless, of course, you're in an Alfred Hitchcock movie, and then all bets are off. If you're in a Hitchcock movie, everything wholesome takes on a sinister edge, including apple pie, baseball, and mom. (Especially mom.) The encouragement of that mentor, guide, and friend is more likely to make you a killer than a king.
So it goes in Rope, based on a play that was in turn based on the infamous 1924 Leopold and Loeb case. The film opens with roommates Brandon (John Dall) and Phillip (Farley Granger) strangling David, a former classmate (Dick Hogan). We soon find out that they had no motive beyond the thrill of killing, of demonstrating that they are among the few "intellectually superior" human beings who are above mundane ethics and morals. And where did they get the idea that such human beings existed? From Jimmy Stewart, of course.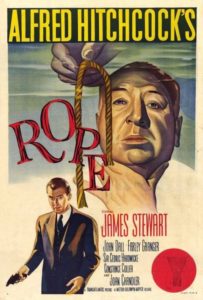 From Jimmy Stewart playing Rupert Cadell, their former teacher, that is. Hitchcock was good at casting the beloved actor against type; in this, their first of four films together, he starred him as a Nietzsche-spouting cynic. The director had originally intended the role for Cary Grant, and there are those who think Stewart wasn't a good fit for it (including, reportedly, Stewart himself). But his slightly ill-at-ease air actually enhances his performance as the disturbing scenario plays out.
Brandon, who faithfully absorbed his teacher's ideas about the Ubermensch, considers it the finishing touch to the murder to invite Rupert, along with some of the dead man's friends and family, to a party immediately afterward. To lend an extra touch of the macabre, dinner is served on the chest in which the corpse is hidden. But Brandon is clearly so excited, and Phillip so edgy, that Rupert suspects something, and finds himself forced into the role of detective as the evening wears on. When he finally discovers the truth, he's horrified at the way the young men have "tried to twist" his teachings.
The irony is, of course, that they haven't. They've simply taken his teachings to their logical conclusion. But that's where Stewart's persona comes to the film's aid, adding layers to the characterization. Because we're used to him as a character with integrity and good values, we can find his horror convincing, even transforming, at the same time we realize that his defense does not hold water. His friendship, the trust he built with his students, poisoned their minds, with consequences that were literally fatal.
It's particularly interesting to compare the eras in which these two films are set: one just before World War II, one a couple of years after. Adolf Hitler, of course, was famously enamored of the Nietzschean ideas about superior and inferior beings that Rupert Cadell taught his students. In The King's Speech, a friendship helps to fight those corrupt and disastrous ideas; in Rope, it helps to spread them. But the fact that it takes place after the war—a war in which Rupert fought, as did Stewart himself—makes it a little more believable that Rupert is rethinking things now. (For another fascinating WWII-era treatment of a teacher instilling fascist ideas in students, see The Prime of Miss Jean Brodie [1969].)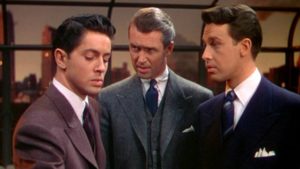 The tragedy is that his friendship corrupted the boys before that. They've taken his teachings and run with them, farther than he ever imagined. The comparison of these two films reminds us both of the power of a teacher and friend, and the need to keep a proper perspective even on such important relationships. They can be a great force for good—except when they're not.
Gina Dalfonzo is a writer in northern Virginia.