by Fizz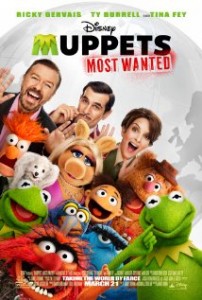 In a weekend that saw its box office figure dwarfed by Divergent (the "next big thing" in young adult dystopian fiction), Muppets Most Wanted still delivered a movie that was highly enjoyable and heart-warming. It's fairly common in today's movies to only have heroes that are highly flawed or, honestly, plain bad. We, as an audience have voted with our dollar over and over again for a super complex anti-hero (Iron Man 3, Despicable Me 2, American Hustle, Dallas Buyers Club, etc, etc.), but I, for one, love to sit back and enjoy a tale in which the nice guy finishes first– especially when that nice guy is Kermit the Frog. He isn't flashy, and he definitely isn't an action hero, but he is the kind of guy (frog) we should feel good to root for (even if his most debilitating trait is only commitment issues to a very beautiful and boisterous pig).
From the very beginning of the film– well, after a delightful song about making a sequel– we, and the Muppets, are introduced to Dominic Badguy (pronounced "bad-gee". It's french!) played superbly by Ricky Gervais. Dominic instantly starts using flattery and a little trickery to get in the Muppets good graces. He uses that foothold to try to convince the Muppets to go on a world tour. A slick talker, Dominic comes in and basically begins to tell everyone exactly what they want to hear. Kermit is the only one who hesitates, but because he wants to do right by his friends, he eventually concedes and that is where our separation begins.
"A dishonest man spreads strife, and a whisperer separates close friends." -Proverbs 16:28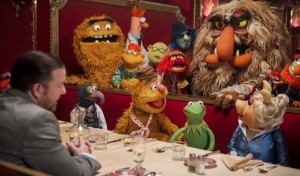 Once on the road it is easy to see that Dominic really is the "bad guy." He whispers to Kermit and shows up to spread very kind and concerned strife amongst our Muppet family. Once the seeds of discourse are sown, Dominic orchestrates a Kermit switch with "the world's most dangerous frog," Constantine. Constantine shows up, and with Dominic's help, gives the Muppets exactly what they have always wanted– full autonomy and stardom (he even sings an amazingly hilarious song about it). But, sometimes the freedom that we think we want– or the freedom the Muppets think they want– is not what they actually need.
Left to their own devices, "The Muppet Show" becomes a practice in organized chaos. The shows are long, boring, and often, flat out bad. The person who gave good and just boundaries for the betterment of the Muppet family and "The Muppet Show" was no longer there. Kermit could have easily been seen as a stick-in-the-mud by his friends, but his only thoughts were for the big picture.
I don't want to lay it on too thick, but this is often a similar criticism of Christianity.
"God's rules are only there to spoil our fun!"
"I would like Christianity if it weren't so excluding."
"I just want to be free and God is too restrictive for me."
"I have said these things to you, that in me you may have peace. In the world you will have tribulation. But take heart; I have overcome the world." -John 16:33
Like children, it is often not until we can step back and see the bigger picture that we truly see that a Creator, with knowledge of all history and all future, does not accept the temporary over the eternal. In fact, his ability to direct us on a path with guidelines for eternal peace and justice, shows that He is actually heavily invested in us being truly satisfied, not simply momentarily satisfied. This idea is so universally true, that on a smaller scale, we see that it doesn't take long before the Muppets realize the same thing (albeit in a much more comical way).
Walter: "There's only one guy in this world who can save us! There's only one frog who can restore order, bring justice, and set things right!"
Fozzie Bear: "You are talking about Kermit, right?"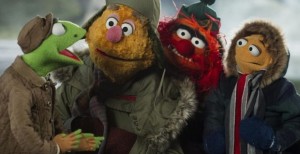 While Kermit cannot ultimately bring eternal justice and order, he can help his family. Through all the various antics of the movie, Walter and Fozzie eventually stumble upon this truth and act upon it to save Kermit and reunite him with the gang. Once back, Kermit helps unravel Constantine and Dominic's plan and restores unity to the Muppet family. And, while Kermit is a little disappointed that no one noticed he was gone, God is not surprised when we are distracted by the world. But, like a loving Father, is constantly calling us back to Him to see all things set right.
Kermit: "Not one single person noticed I'd been replaced by an evil criminal mastermind?"
Fozzie Bear: "It sounds worse than it was…"
Walter: "No, it's as bad as it sounds."