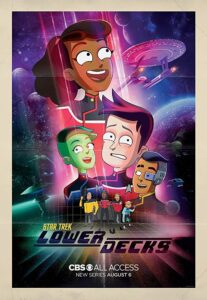 It's not hard to make jokes at the expense of the Final Frontier. Saturday Night Live has done it. Futurama extended the idea to seven seasons and four movies. In 2013, Star Trek convention attendees ranked Galaxy Quest the seventh best Star Trek film, despite it not being a Trek film at all. Aimed at a show that famously takes itself rather seriously (with a fanbase that takes it even more seriously), the jokes almost write themselves.
But the true (warp) core of Star Trek is—and has always been—"us, but out there." Humanity (and human-like races who exemplify aspects of ourselves) beyond the edge of what we understand, proving ourselves in a universe that Q describes as "wondrous, with treasures to satiate desires both subtle and gross."
That power source still surges through Lower Decks. Instead of propelling dramatic Shakespearean speeches and meditations on the nature of existence, it drives witticisms and bathroom humor, but the EPS taps still glow with the hope of a future where we can take our problems into space and examine them where no one has gone before.
The characters' problems are all quite human and relatable. Star Trek does some of its best work when it's writing stories that would be interesting even if they weren't set in space, and the drama of this show appears to be centered on that very human experience. While the pilot's jokes don't shine as brightly as I expected, and the plot's resolution was obvious from the halfway point of the episode, the truly human conflict and connection was charming and fun.
Spoiler warning: plot and ending details for "Second Contact" follow.
So how does Lower Decks manage to tell jokes in a universe so famed for its canon that its fans' collective name is a byword for "minutiae-obsessed nerd"—and how does it do so without feeling tonally strange or oddly stilted? By keeping the jokes on the sci-fi and the drama on the characters.
Put another way, the jokes are silly, but the humanity is real. The USS Cerritos is on a less auspicious journey than its more storied predecessors, but amid the farce of its "second contact" mission gone wrong it still manages to hold up a mirror to truly human problems. We see Tawny Newsome's Ensign Mariner struggling with a desire to be helpful and distinguish herself as an individual; Jack Quaid's Ensign Boimler working through his need to advance, prove himself, and be a friend; Noël Wells' Ensign Tendi facing a huge crisis on her first day at a new job; and Eugene Cordero's Ensign Rutherford on a first date that goes really well until it stumbles where it really matters.
Making Star Trek into jokes at the expense of the characters never works well. Data repeating Troi's comment about her bust size to Worf in Insurrection, and the tomfoolery of the senior staff in DS9's "Move Along Home," don't charm so much as inspire cringe because they ignore the characters' motivations in favor of a cheap joke.
But when the comedy comes out of the character (like Kirk and Spock simultaneously telling Gillian Taylor that they both love and hate Italian food at the same time, or the Voyager EMH responding to a holographic Klingon's exuberant "Qapla'!" with a brandished dagger and a nonplussed "Tally-ho.") the jokes feel earned and honest, empowered by the character development that can only come out of years of faithful storycraft. Instead of diminishing a character, it further develops them; gives them new dimensionality and verisimilitude.
This appears to be what Lower Decks is built around: create well-rounded and relatable characters, put them in ridiculous situations, and allow them to react in funny ways that line up with their established characterization. We have a pretty good idea of how Ensigns Mariner, Boimler, Tendi, and Rutherford would react to various situations already, and it's only episode one: but more crucially, that reaction would be very different from most other characters we've seen in Star Trek before.
Imagine that the Lower Deck characters had to deal with classic TNG Trek threats, for instance: with her disregard for rules and her desire to help, Mariner would probably befriend Q and convince him to help someone who needed it. Boimler would likely go catatonic if forced to defend Dr. Maddox's desire to disassemble Data. Tendi's response to the "subspace bubble" that Dr. Crusher experienced in "Remember Me" would be one of elation and exploration (I bet she would try to touch the edge of the universe at least once). And if Rutherford were in the holodeck when Moriarty was created, he would certainly have gotten to the bottom of why and how the computer did such a thing, even as Moriarty took control of the ship and flew it into a supernova.
All of their characters, as of right now, are well-drawn and very clear. It's quite a feat for a franchise that has been known to create one-dimensional characters and leave a post-it note in the margin of the script that says "TO DO: Make this character interesting—" without ever following up on said note. They're different from one another, too, and that's very important; because it reflects real life. In our world, we all have different desires, affinities, abilities, and dreams. On the Lower Decks, it's the same.
That diversity of character strengthens the crew: their good-faith honesty and thoughtful conversation makes them better able to handle the threats that every Starfleet ship, even a second-tier vessel like the Cerritos, runs into. It strengthens the show, by giving a greater breadth of character development from which to draw jokes. And it strengthens us, here on Earth; because we were all made in the image of God. That image is infinite; which means our diversity is, too.
And when we examine it among the stars, we get to see something really beautiful.
Even if it is a bit silly.