It's hard to believe we have reached the final two months of 2016 and also stepped into the most hallowed of times for movies lovers; the winter movie season. Leading up to the hoopla and excitement of year-end lists, the Oscar race, and the release of a Star Wars movies, November has typically been only the first taste of the holiday season's bountiful offerings at the movie theater. However, if you can't make it out to the theater or are waiting patiently for your favorite big name movie or Oscar-contender to be released, our contributors have stepped up to give you something to watch while you gear up for this exciting season. Enjoy their picks this weekend from the comfort of your own home and happy movie watching weekend everyone!
[divider top="no"]
via Gene Gosewehr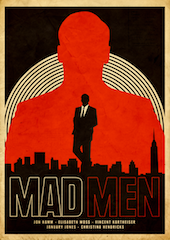 Mad Men (Netflix) – It seems like television started telling really great stories in the late 1990's or early 2000's. With the advent of streaming services, that trend has skyrocketed in more recent years. The ones that paved the way have not been forgotten. Shows like The Sopranos and The Wire are available on streaming services and many embark on binge watching entire seasons at once just to be caught up with what culture is comparing current shows to. At seven seasons long and only just concluded in 2015, Mad Men is certainly in the mold of those shows that impact culture and stay in people's minds.
Don Draper (John Ham) is head of creative at an advertising firm in New York. On the surface his life is very cliché' for the era; a beautiful wife, rewarding job, two children, suburban home. It's what lies under the surface, and in Don's past, that brings in the drama and intrigue. The show follows Don and used the office setting as a backdrop for stories of gender equality, ethical compromises, personal conquest and failure, adultery, betrayal, and loyalty. In terms of drama, you have almost everything on the table with this show. And I'm sure you've heard more than a few people rave about it. Give it a shot, all seven seasons are available on Netflix.
[divider top="no"]
via The Film Avenger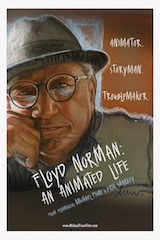 Floyd Norman: An Animated Life (Netflix) – You probably don't know his name, but you do know his work. Floyd Norman was Disney's first black animator and contributed to many of the studio's classic features including Sleeping Beauty and The Jungle Book, as well as some of Pixar's biggest hits. The documentary is a clever, creative portrait of this humble, affable man's life and career – a career filled with triumphs and setbacks. But Norman has faced everything with a good sense of humor. If you love animation and want to get an honest and interesting look at the industry, check out this great film.
[divider top="no"]
via Josh Crabb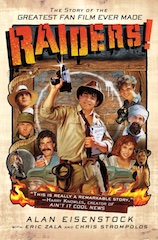 Raiders!: The Story of the Greatest Fan Film Ever Made (Netflix) – The story of three childhood friends' famous shot-for-shot remake of Steven Speilberg and Geroge Lucas' Raiders of the Lost Ark, the movie is a documentary of their efforts to film the one scene they could never complete, the airplane fight scene. A fun and fascinating look at both the power and the possibilities of movie-making, the spirit of the movie grabs you. I wanted to go out and make something after it was done and inspire my kids to do likewise. Also, their stories of how many times they escaped death while copying Spielberg's movie will remind anyone of the dumb things they did as a kid in the name of fun and adventure. It makes you both deathly afraid for your own children and inspired to let them create and explore. Their fan film may not be all that good, but, like any kid, it started them on a path to where they find themselves today and inspired them to finish what they started. Even if you aren't a particualrly hug fan of Indiana Jones, ths movie will entertain and keep you thinking long after it's over. And Johnathon Rhys-avies shows up to drop inspiring quotes; it's great.
[divider top="no"]