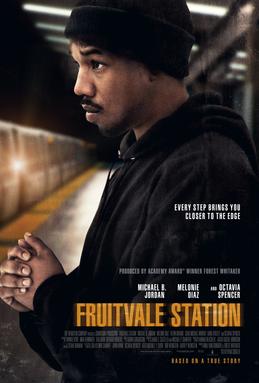 In Oakland, California in the early morning hours of New Year's Day, Oscar Grant III was shot by police at the Fruitvale BART (Bay Area Rapid Transit) Station. He would eventually die after hours of surgery to try and save his life. The events surrounding the incident are incredibly cloudy, despite cell phone camera recordings of the incident and plenty of eyewitnesses, and the aftermath was explosive as the local black community rose up to the injustice of a young, black man dying at the hands of police that were perceived as easily provoked and unjustly hostile. Even worse is that Grant was shot in the back while facedown and being cuffed. It was a prophetic incident for what was to come in the mid-2010s at Ferguson, Milwaukee, Cleveland, New York City, and North Charleston.
Between when the incident occurred and now, this tragedy was used as inspiration for the 2013 movie Fruitvale Station. Based on the real events and people, the movie follows the day leading up to Oscar Grant's murder on the platform of Fruitvale Station. Oscar (Michael B. Jordan) is a 22 year-old man struggling to make a life for himself and his family. He is far from perfect, having served a sentence in jail for a drug related crime, while also being unable to hold a job because of his propensity to be late. But he is trying to get his life back together.
He is repairing his life for the four year-old daughter he has with his girlfriend, Sophina (Melonie Diaz), both of whom he loves dearly. The movie takes us on a regular days journey with Oscar as he plays with his daughter, meets up with his friends, make important life decisions, and decides to take the train for New Year's at his mother's (Octavia Spencer) suggestion.
Michael B Jordan and Octavia Spencer are the particular standouts in this film. There is nothing over dramatic in either of their performances. Spencer and Jordan ground the movie in its true-story roots and are fully believable, real people, completely disappearing into their roles. Jordan lends a toughness to Oscar's street savvy and a tenderness to his role as a father. His relationship to his daughter, Tatiana, who he calls "T", warms you to his character, whatever faults he might have, and molds his politically charged character back into what Oscar really was; human. He was a son, a boyfriend, and a father, someone who was dearly loved and was unjustly taken away from those people.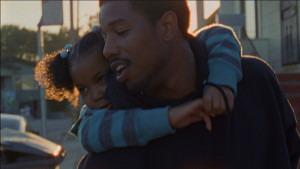 While I found Jordan's Oscar to be likable, believable, and a great representation of the injustice many black men face from our culture, the sheer effort to accomplish this portrait was slightly off-putting and strained. The movie goes to great lengths to contrive many life-changing events for Oscar: giving up weed, confessing the loss of his job to his girlfriend, etc. Whether it is through the skill and equitable performance of Jordan, the sincerity of these plot devices don't have quite the adverse effect they could have had. While this gripe can certainly be a major one, it did not ruin nor significantly diminish the overall quality or emotional impact of the movie for me.
Because of that, as well as its timely message for our society and culture in light of recent events between police and African-Americans, it is our recommendation for your weekend viewing on Netflix. Check it out and let us know what you thought of the movie.