We've passed the official start of summer and the longest day of the year. Enjoy these long days by being outside and then staying up late watching a movie on your computer or TV, recommended by our wonderful contributors. Enjoy the start of summer and happy movie watching weekend everyone!
[divider top="no"]
via The Film Avenger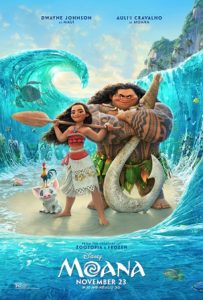 Moana (Netflix) – Walt Disney Animation Studios released two features last year, and I feel that this one is the superior. If I had to describe Moana in one word, it would have to be "beautiful" – one of the most beautiful animated features I have seen in a long time. Directed by Disney Animation vets John Musker and Ron Clements (The Little Mermaid and Aladdin, among others), Moana is a love letter to the natural beauty and exotic cultures of the South Pacific – filled with amazing visuals and stunning animation. Moana, the Princess of Motunui, goes on a journey to save her island and encounters all manner of supernatural phenomena, including the demigod Maui. As with many other Disney features, there are a few memorable and catchy songs. I especially loved the ones that mixed the native languages of the island cultures. It gave the film an air of authenticity. Dwayne Johnson pours on the charisma as Maui. As for Moana herself, newcomer Auli'i Cravalho fills the character with a sweet strength that is endearing. If you'd like to know more about Moana, check out my review.
[divider top="no"]
via Josh Crabb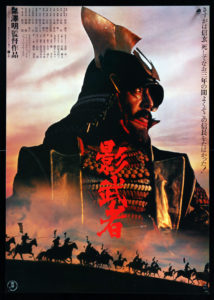 Kagemusha (Netflix) – The only offering from Akira Kurosawa you are going to find on Netflix or any streaming service besides Film Struck, Kagemusha has a long, storied history for the great director. It is well known the influence Kurosawa had on George Lucas and Star Wars, and Kagemusha brings that influence full circle. After Lucas had released Star Wars, he was not shy about his love of Kurosawa and stumped for 20th Century Fox, who had produced Lucas' groundbreaking space fantasy film, to produce Kurosawa's next movie. The famous Japanese director was famously averse to big, American studios, especially since 20th Century Fox had fired him weeks into the production of Tora, Tora, Tora.  However, Lucas prevailed on studio execs and they produced and released Kagemusha in 1980. The movie was a big commercial success in America and overseas and went on to win the Palme D'Or at Cannes and garner two Oscar nominations. Perhaps the greater story is the success of the film made it possible for Kurosawa to fund and produce his last great masterpiece, 1985's Ran.
Oh yeah, this movie is pretty great. A samurai movie taking place in 16th century Japan, it follows a small-time thief who is hired as Tokugawa's double, only to have to take his place as the leader of the Shingen when the real-life warlord is murdered. Visually stunning and filled with high-stakes and big armies, the movie is everything you would expect of a studio production, but with the direction of a cinematic master. Well worth the 156 minute run time.
[divider top="no"]