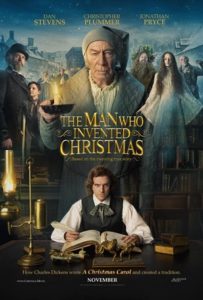 A Christmas Carol.
We all know the story as well as any age-old fairy tale. We've seen multiple film versions (Muppet Christmas Carol is my personal favorite) and the memorable quotes of "bah humbug" or "God bless us, everyone" have etched themselves into the very foundation of literary history. The Man Who Invented Christmas not only gives us the story behind the story, but also a solid character arc for the author himself.
At the start of the film, renowned author Charles Dickens (Dan Stevens), is coming down from a career high on the back of three recently published "flops." In a dry spell both financial and inspirational, he essentially throws a Hail Mary by deciding to write his "Ghost Story of Christmas" in just six weeks.
The inspiration for the ghostly elements comes from Tara, the Dickens's young house maid. He overhears her telling his children a story of the spirit world opening up on the night of Christmas Eve—a tale handed down through her Irish heritage. But the Carol truly takes off when Charles finally encounters his iconic protagonist—Ebenezer Scrooge—via his imagination.
It is true that this film contains more fantasy than historical accuracy, but the narrative has so much of value to share with the audience that its themes and heart ultimately render any lingering need for accuracy.
This film struck me very personally. I can relate to Dickens in just about every way—the inner turmoil of self-doubt, the crazy inspiration whirlwinds, and spontaneous moods. The portrayal of the artist's struggle between manifesting creation and living daily life is painfully spot on. Dickens's father (Jonathan Pryce), plays an important role in his son's struggle, and declares with a hint of sarcasm, "We must not disturb the poet when the divine frenzy is upon him!" That, to me, encapsulates the personal pandemonium of being an artist. I especially enjoyed Dickens's pitch of his Christmas story idea as "a hammer blow to the heart of this smug, self-satisfied age." While I agree that his work ultimately achieved that promise, I could not help but chuckle, because all artists think everything they do will spark some revolution. We just can't help ourselves.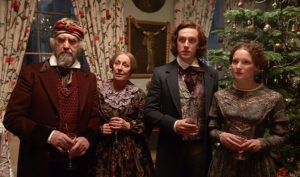 Inspiration for every work of art, whether realism or fantasy, comes from pieces of the creator's everyday life. I love the way familiar symbols from A Christmas Carol are strategically placed throughout the film. Some obvious, some more subtle, but all lend to the framework of the author's journey. We also see how the people in Dickens's life heavily influence his work and their input is vital to the formation of the story. My favorite is his friend, John Forster (Justin Edwards), who helps Charles get to the real source of his story simply by questioning his choices for the protagonist. Dickens wrestles with his own bitterness and soft existentialism throughout the film. Originally, Dickens was going to kill off Tiny Tim for real, but Forster asks him earnestly, "If Tim dies, then what's the point?" It angers Charles initially, because he realizes that, not only is his friend right, but Forster has also shone light on a dark place in his heart that he had hoped to keep hidden.
I appreciate that this film reveals both the light and dark side of creation. When an artist of any kind creates, they are open and profoundly vulnerable. We see this in Dickens when he lets bitterness about humanity—and his misplaced belief that people cannot change—slip through the cracks. It also shows in his impatience and intolerance toward certain people in his life, chiefly his charismatic and unpredictable father.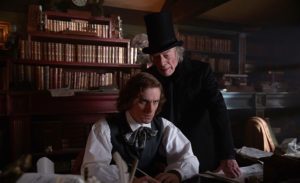 In many ways, Dickens can relate to his cold, miserable Mr. Scrooge. By not confronting his own fears, he brings himself to a blockage of creation, which in turn leads to a nasty persona. His wife points out that it feels like there is two of him, one gentle and warm, and the other hidden away, impossible to know. Dan Stevens brings his signature performance duality to Dickens, presenting him in both a charming and fierce way.  Rather than elevate Dickens on a pedestal, the film presents him in a very human and relatable way. That crucial aspect keeps the audience in his corner as he faces his demons, and cheering him on as he crosses the finish line.
Dickens's encounters with his characters as he builds their world brings the comedy throughout—especially Scrooge (made fresh and snarky by Christopher Plummer). There is a certain amount of madness required to be a storyteller. Like Dickens, I have found myself conversing with my characters in my head and watching their scenes unfold. I think any writer watching this film will laugh and be moved by the plight of the process.
They call Charles Dickens "the man who invented Christmas," not because he is the source of the holiday, but because his story inspired people to come together, to believe, love, and share. His book was paramount in the revival of Christmas celebration during the Victorian Era, particularly its essence of generosity, family togetherness, and goodwill to men. To this day, A Christmas Carol has never been out of print, and Charles Dickens initially self-published it—something new I learned from this movie. One-up for the indies!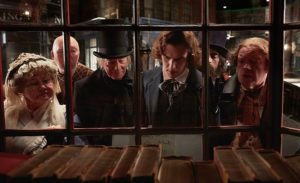 The Man Who Invented Christmas is lovely and full of its own silly humbug, but in the best way, I think. It is easily the feel-good movie of the season, but more than that, it's a short tale of perseverance through pressure and finding our unconditional kindness for the least of these.