The director is the only person who is involved in every aspect of making a movie. No matter how great a performance, how well-crafted a script, creative the editing, or cutting edge the special effects are, if the director is not highly skilled, the movie will ultimately fall apart. Directors can often be forgotten, but awards season gives us a the unique opportunity to celebrate many of the people behind the camera calling the shots. Our staff team got their heads together on their favorite directorial efforts in 2016 and had less consensus than any other list. Beyond the Top 2, it was only by a sliver we didn't have a 4-way tie for 3rd. One recount later and some final, last minute screenings, we present our Top5/6 Directors list!
[divider top="no"]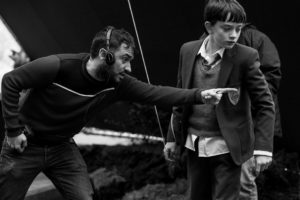 T4) J.A Bayona, A Monster Calls
Crafting a film in which the main character is conversing with a completely CG character for multiple scenes must be difficult. Imagine describing to your actors what they should be reacting to, where to go, how to express themselves, etc. I give big credit to Lewis McDougall for his performance in this film, but I have to believe that Boyana pulled a lot of that out of him. His masterful handling of the cast continues as he balances a number of family members both while they interact with each other and singularly to mold their characters into shape. This is a tough story to adapt not just due to the visual challenges, but the emotional connections must be spot on to have the audience fully buy in. Boyana succeeded in those ways and more.
[divider top="no"]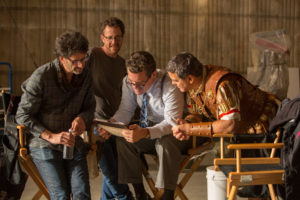 T4) The Coen Brothers, Hail, Caesar!
After their latest effort, Hail, Caesar!, the Coen Brothers continue to add to their long legacy as one of the greatest directorial and artistic minds in American cinema. They consistently get the best out of their long-time collaborators like George Clooney, Josh Brolin, and Frances McDormand, and do so, as well, with new collaborators like Channing Tatum, Alden Ehrenreich, and Scarlett Johansson. Plus, they can make something like a grim slice of Americana like No Country For Old Men or True Grit, but then also make great comedies with a thoughtful core like this movie or Burn After Reading and O Brother Where Art Thou?. The Coens can do it all and their ode to Golden Age Hollywood strikes the great balance between comedic satire and dramatic period-piece drama. They truly deserve more recognition for this movie than they are getting.
[divider top="no"]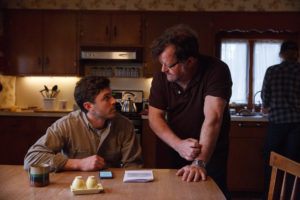 T4) Kenneth Lonergan, Manchester By The Sea
This small quote from previous RWT guest Josh Larsen sums up extremely well how great Lonergan's directing is: "Each image is carefully composed without being overly fussy, while the wintry New England makes for an evocative backdrop. This isn't a movie in which anyone's heart is really warmed; the best we can hope for is a bit of a thaw."Lonergan slowly builds in his films, filling in detailed moments and composing scenes which add up to a satisfying and emotionally gut-wrenching whole (see Margaret for a prime example). He doesn't direct movies that often, this is only his third feature film, but each one has been evocative, heartfelt, and masterful.
[divider top="no"]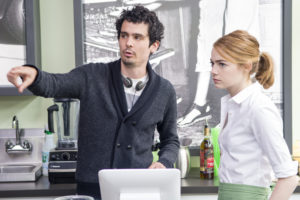 3) Damien Chazelle, La La Land
After his young passion project Whiplash became an Oscar-nominated debut for Chazelle, and only after he dropped out of the development for 10 Cloverfield Lane, Chazelle is nominated for his first Oscar as a director for only his second feature film. Quite a start for the young man and it is completely deserved. Once again, he goes musical and strikes it big and the entire movie is a magical effort by the director. The music is addicting, the performances are pitch perfect, the choreography is razor sharp, and the design and feel of the movie is fun and vibrant. He might not win this go around, but this starts to pad the directors resume to receive a win in the near future. Let's hope he keeps making great movies and is the kind of director we will be talking about thirty years from now.
[divider top="no"]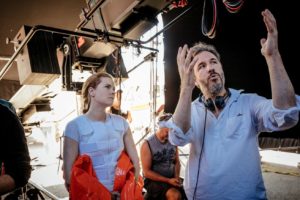 2) Denis Villeneuve, Arrival
After 2015's Sicario, Denis Villeneuve was a director to keep an eye on. We loved Sicario, but it wsan't necessarily Top 10 material compared to the wealth of great movies in 2015. Arrival held a lot of promise, especially given the disappointing nature of many movies in 2016. Needless to say given our multiple reviews of the movie, we loved this movie and loved Villeneuve's direction. It was deeply cerebral and patiently contemplative while still containing fun elements of Sci-Fi we have loved in past RWT favorites Ex Machina and The Martian. Villeneuve's dark and naturalistic aesthetic seems to be less pronounced and more appealing in a movie where the inherent morality of the film doesn't match the tone. It's this dissonance in tone that gives Arrival and ominous but hopeful feel as Louise and Ian strive to communicate with the heptapods. The adaptation of the source material has some questions marks and many have expressed their preference for Chiang's original story, but Villeneuve does an admiral job creating a compelling and thoughtful narrative and deserves all the accolades he is receiving.
[divider top="no"]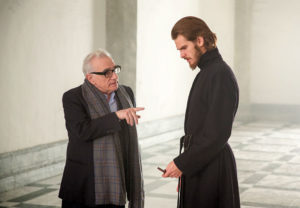 1) Martin Scorsese, Silence
In the same vein as Denzel making our Top 5 Actors, what more can you say about the legendary Scorsese? Over the course of forty years, the man has distinguished himself as an American great. And although this is not his final film, it is a passion project worthy of the word "project", having taken over a decade to develop, and certainly worthy of "passion". Since he received the book from a New York Archbishop in 1989, Scorsese has been bundled up in both legal troubles and in getting the story of Jesuit priests ministering in 17th century Japan. The wait was well worth it. Silence is a contemplative and fervent masterpiece capturing the heart of Endo's beautiful story. The artistry and imagery used by Scorsese perfectly distill the essence and presence of the book and wrestle with deep questions of God, faith, suffering, pride, and prayer. The actors are directed with a pitch perfect tone and the usual frenetic qualities of some of Scorsese's other movies are more reserved. Of course, there are still some patented Scorsese camera movements, just to remind you he made this movie, but the overall film-making is excellent at every level. It is borderline criminal his movie is only going to get one Oscar nod, but like most passion projects, they hardly ever lineup with what Hollywood wants to see or even audiences, judging by the box office. For us here at RWT, his movie will take at least two #1 slots and will have a movie we will long remember.